NWSA High School
In May 1993, New World School of the Arts was named a National School of Excellence by the U.S. Department of Education's Blue Ribbon Schools Program.
New World School of the Arts (NWSA) is a Florida Center of Excellence in the Visual and Performing Arts. NWSA provides a comprehensive program of artistic, creative, and academic development through a curriculum that reflects the rich, multicultural State of Florida. The school empowers students to become state, national, and international leaders in the arts by challenging them with innovative ideas as they prepare for professional careers in a global community. These principles guide intensive and rigorous education for talented high school and college arts students.
Recognition and Awards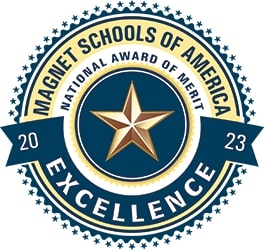 Our high school has received numerous recognitions and awards including a Magnet School of America School of Excellence Award in 2022 and several Merit Awards spanning for more than a decade. Most impressively, NWSA was selected as a National Demonstration School in 2017 and issued National Certification by Magnet Schools of America. The school has received a grade of "A" for 15 years in the State of Florida under the School Accountability Report.
U.S. News and World Report consistently ranks New World School of the Arts as a GOLD standing school, ranking among the top high schools in the nation. The U.S. News Best High Schools rankings include data on nearly 24,000 public high schools in 50 states and the District of Columbia. Nearly 18,000 schools were ranked on six factors in 2021, based on their performance on state assessments and how well they prepare students for college.
In addition, NWSA is the recipient of the United States Department of Education's Blue Ribbon School of Excellence Award and is 1 of only 10 schools in the nation to be recognized as a Magnet Schools of America National Demonstration School and National Certification. New World School of the Arts high school students have received Gates Millennium Scholarships, each year are selected YoungArts finalists and President Scholars in the Arts and have received multiple winning placements in Lincoln Center's Essentially Ellington jazz band competition as well as Grammy Foundation Jazz Ensemble Awards, among many other national and state recognitions
Apply Now
Admission to New World School of the Arts is determined by a performance audition or a portfolio review. Only currently enrolled eighth and ninth graders can apply.
For detailed information visit the application section of this website.
Schedule a Tour
Are you interested in one of the best high schools in Florida? Contact us to schedule a tour and learn more about our Dance, Music, Theater or Visual Arts high school programs.
Arts Divisions
---
News and Announcements
Tweets by NWSA_MIAMI
---
Upcoming Events
School Directory