Getting Started
A Unique Partnership
Admission to New World School of the Arts is determined by a performance audition or a portfolio review. For detailed information, see the audition requirements for each division. Students may audition for more than one division, though the course of study is limited to one.
Freshmen and Sophomores are considered lower division students, and are subject to the academic policies set forth in the Miami Dade College catalog. The Associate of Arts degree is awarded by authority of Miami Dade College.
Junior and Seniors are considered upper division students, and are subject to the academic policies set forth in the University of Florida catalog. The Bachelor of Fine Arts and Bachelor of Music are awarded by authority of University of Florida.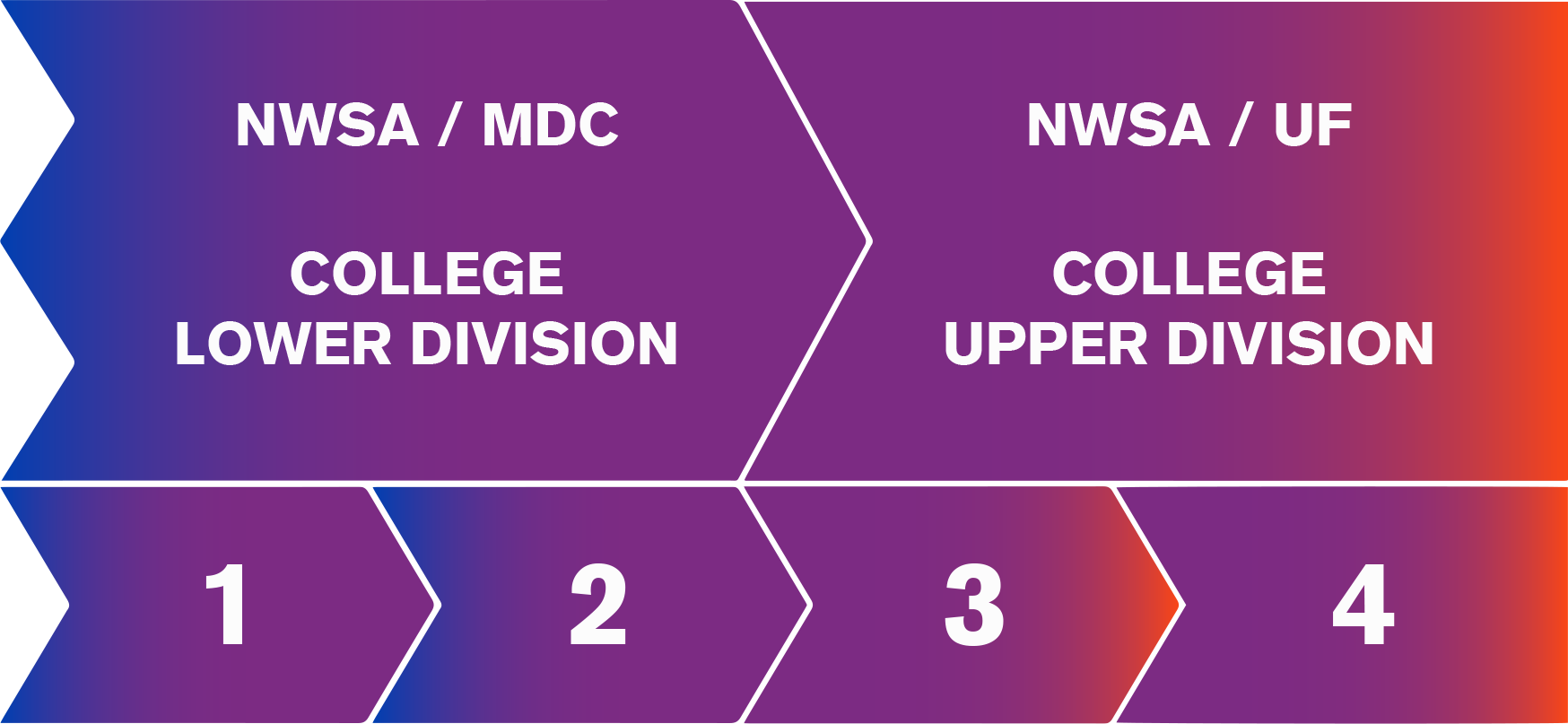 The College Student Services Office of New World School of the Arts coordinates all administrative procedures for NWSA students. For more information, please contact us at: 305.237.3472
Apply to NWSA
Welcome!
Begin your journey to college admission by following the steps below.
Complete and submit the online application using the button below. (Audition date selection and portfolio uploads are completed through the online application).

---

NWSA College Application for Admission, Audition, and Portfolio Review

---

Submit two letters of recommendation from recent instructors or counselors in an arts or educational discipline. Letters should be submitted to the Director of Student Services, natkins@mdc.edu.
Submit official transcripts from high school and all colleges previously attended. If transcripts include coursework in progress, Official Final Transcripts must be submitted upon completion of your current semester. Transfer students should arrange for their official transcripts to be sent as early as possible for evaluation. Doing so will help to insure timely placement of credits for transfer.
All official transcripts should be mailed to:
NWSA College Student Services
300 NE Second Avenue, Suite 5605
Miami, FL 33132-2297
College Academics and Programs
Partner College Policies
Lower Division Policies
The State of Florida requires every student earning a degree to complete "general education courses", providing a solid foundation for the academic program and for life-long learning. New World School of the Arts students, while pursuing a highly focused program in the arts, are required to satisfy the general education requirement. NWSA believes that the general education courses help students acquire a base of academic skills and knowledge that is essential to developing the artists as a whole person, and as a member of the greater community. Requirements and options for the 36 credits of general education are detailed in the Student Handbook distributed by NWSA to incoming students.
Upper Division Policies
Minimum requirements for admission
Fully completed on-line UF application with $30 fee paid to UF.
Completion of one college-level math and one college-level English course with grade of C or higher
Foreign language requirement (2 years of a single foreign language in high school or eight (8) sequential credits at the college level or CLEP, IB, OR AP examinations.
60 lower-division credits
A student who has not completed general education courses before acceptance into UF must continue enrolling in MDC general education courses each semester while taking upper division art courses. A STUDENT WHO DOES NOT CONTINUALLY REGISTER FOR GENERAL EDUCATION COURSES WILL BE DROPPED FROM UPPER DIVISION COURSES. The AA degree must be completed by the end of the junior year. Students may not withdraw from general education courses without the permission of their advisor.
Students who do not meet minimum requirement for UF admission:
Students who have completed all lower division arts requirements but do not meet the UF admissions criteria indicated above will have two additional semesters during which to meet those requirements while taking upper division arts courses.
These students must complete a non-degree application and are considered non-degree (0FA) status.
Campus Tours
New World School of the Arts offers Campus Tours free of charge to prospective applicants.